Reviews for VELOWAVE MTB3 Eelctiric Mountain Bike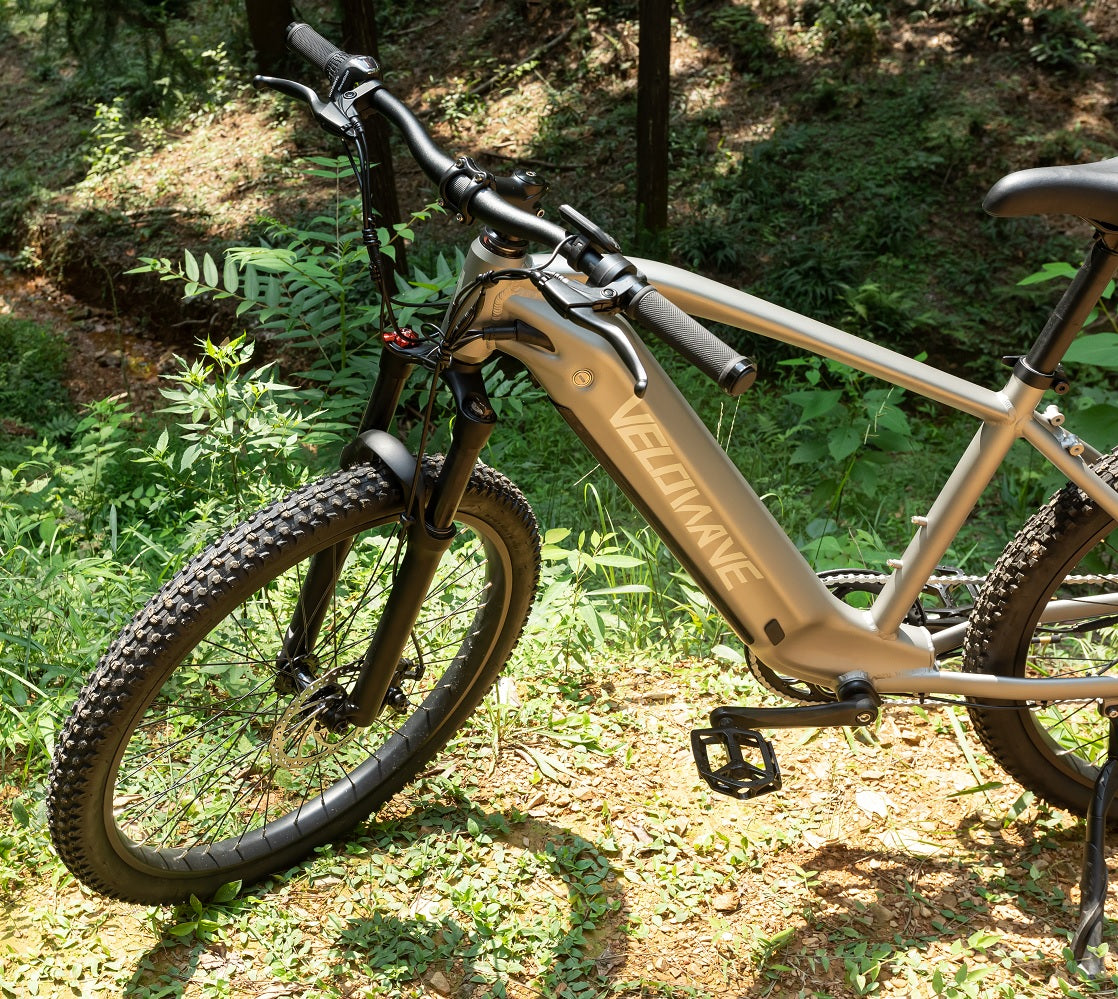 Written by: summer fairbairn
5.0 out of 5 stars Absolutely amazing bike.
Reviewed in the United States on August 7, 2021
I want to try to shed light on this bike, as it hasn't been reviewed all that much, and it might be hard for people to trust the bike.
Here's my honest input:
If you can afford the bike and are worried about getting bang for your buck...BUY IT!!! Especially right now with the $200 off coupon that could expire at any time!
This bike IS rather heavy, but it is an absolute beast. It says that it goes up to 25 MPH but on setting 5 and flat ground, I can feel the pedal assist continuing to work well into the 27 mph range on a full charge. This bike is absolutely impressive in every regard.
SUSPENSION: 5/5
The suspension on the bike is extremely smooth and the stiffness adjustment is impressively responsive and variable. On my previous ANCHEER bike, the suspension was slightly sticky. However, with this one, the suspension is incredibly smooth and soft. It takes cracks and bumps like a champ.
SHIFTING: 6/5
This shifter is absolutely impressive. One might be timid buying a bike with only 7 gears, but to be honest, the lower gears would be absolutely worthless on this bike, as it moves so incredibly fast. The shifter is a twist shifter, and it immediately and smoothly shifts from one gear to the next without ANY delay. This is the case straight from the box. The shifter needed NO tuning, and absolutely blew me away with how smooth and consistent it was. There is no jarring jolt or "crunching" off center delay between gears. It hardly even makes a sound as it smoothly goes from gear to gear. Virtually no grinding.
THROTTLE: 4.5/10
The throttle is a trigger throttle as opposed to a twist throttle. I can understand why, but the throttle kicks off at 20 mph, and it seems like sometimes it goes off when I don't feel like I'm pushing it. Obviously that's probably more my fault than the bike's. It's very useful for taking off when you're in too high of a gear...
BRAKES: 3.5/5
The brakes are slightly squeaky and tend to brush up against the calipers, and adjusting them seems to be a little finicky. I suggest making sure to try and make sure to get the actual wheel centered when putting it onto the front spokes, as having it too far over to one side will result in a lot of rubbing that will not be remedied simply by adjusting the brakes. I'm sure that I could fine tune the calipers (and I intend to) but there is definitely a bit of squeaking and rubbing that will need some work and tuning to get in the proper spots. Mind you, I'm not mechanically savvy, but I was able to get it to a ridable state with minimal rubbing without any help.
edit: the more i've used the bike, the more the brakes kinda rub. the brakes themselves work really well but they are grindy and squeaky and the calipers really rub pretty bad. i have yet to have my expert uncle check it out, so maybe there are some adjustments that can be made that I am just not savvy enough to figure out. overall the brakes are the thing that is most lacking to be honest... but it still travels fast and I can manage to get minimal rubbing. the front wheel is the culprit and it honestly doesn't freely spin for more than a second when you lift up the front and give the front wheel a spin. hoping i can get it adjusted to work better, it's just off center pushing on the left side caliper.
FRAME: 5/5
While the frame is bulky and heavy, it is an absolute work of art. The cables are fed through the frame with immaculate cable management, and it 's just truly a beast of a frame. Not only is it GORGEOUS, it's practical and very well made.
SEAT: 5/5
All things considered, for a stock saddle, it's actually very very well made and quite comfortable. I may not need to replace it at all. Not much to say there, just quite impressed with the stock saddle.
SCREEN: 5/5
The amount of info and adjustment available with the bike is actually insane. The screen itself has enough going on that I think it has its own operating system and would be considered a computer. You can password lock it, and it has some capabilities to hook up a light apparently, giving you the ability to control your bike light from the screen. I have yet to find out if this specific bike has lights that are compatible with the screen. You can even adjust it to fit your tire size, which I think is used to calibrate the odometer. I have yet to explore all the settings, because the advanced window is password locked and I am waiting on a manual for the screen...overall this screen goes above and beyond for just being a screen....
BATTERY: 4.5/5
The battery comes with a button and LED that represents the charge on the battery by going from green to yellow to orange to red, signifying its total charge even without hooking it up to the bike. Very useful for seeing how much juice it has without putting it in. It has a key as well as a switch that fully releases the battery. So if you unlock it, you still have to flip the switch to get the pack to release. The battery is exceptionally heavy, which to me just speaks to the power it has. I will say, the charger pack gets EXTREMELY hot while charging the battery, and I'm not sure how dangerous or typical that is, but overall it's pretty amazing. You have the option to either charge it while it is in the bike, or you can charge it externally. This was a huge relief, as I couldn't easily have it in a spot where I could charge it through the WHOLE bike at once. Overall, this battery is an absolute powerhouse.
TIRES: 5/5
Can't say much about them, but they are STURDY and well made tires. No need to change them really. They have great grip, are nice and thick, and the tubes can hold up to 55 or 60 PSI
OVERALL: 86/100 (edited from 94/100 after experiencing some consistent mild brake rubbing trouble)
This bike is absolutely impressive. It functions as a bike I'd expect to cost at least $2,000, and it goes so fast that it's almost scary. The bike is so heavy and goes so fast that it has a TON of inertia, and requires more leaning as opposed to steering. I am 6'1", and I feel like the bike could accomodate quite a few more inches. I think that if you're above about 6'3", you may need to find a way to raise the handlebars, but the seat goes way farther up than I need it to be. The 7 available gears are surprisingly more than enough, and the acceleration and top speed are absolutely surprising to say the least. The pedal assist pushes you well into the 26-27MPH range, which was more than I expected. It's super heavy, but that's just the nature of a beast like this. I cannot stress enough how impressed I am with this bike. I've only had it for a couple days, but the assembly was an absolute breeze, and it's exceeded my expectations. It makes hills its b*tch and takes off like a rocket. I have virtually no complaints. The pedals are metal, the cable management is glorious, the suspension is buttery, the shifting is incredible, and the braking is SUPER smooth and EXCEPTIONALLY strong. If you can't decide whether the extra couple bucks its worth it, JUST GET IT. You're already getting a $1000 bike, might as well get what I believe to be the absolute best price to performance bike on amazon. It was shocking how easy it was to put together. I spent an hour just giggling and stuck with a sh*t eaten grin on my face when I first rode it. It's just an absolute pleasure to have in my possession and I can't see myself getting tired of it for a very long time. Exceptionally well made bike. I highly suggest it. With some minor adjustments and some peripherals, I daresay this is the best affordable ebike you'll ever get on this site. Just an absolute work of art. Beautiful.
EDIT: i do have some complaints with the brakes. they are definitely in need of some work. I can't tell yet if i can fix it myself or with help, but read the edited brakes section to get an idea of its performance. i would have to say I would prefer to do 4.5 stars but it really is just such a nice bike that i am ok with it being 5 and i wouldn't wanna do 4 tbh
1 comment