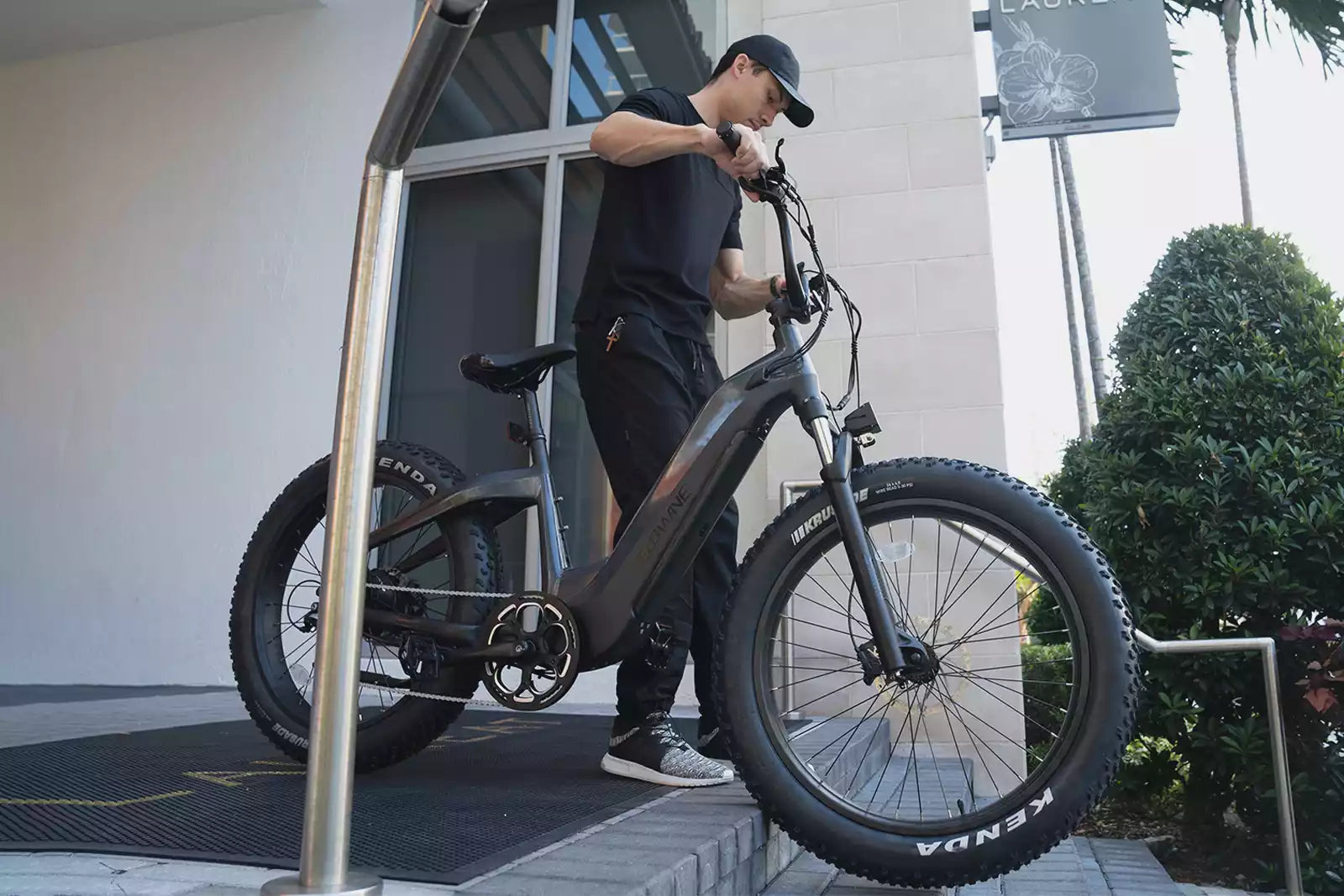 Commuting Tips
Commuting on an ebike is quickly becoming popular for commuters who want to reduce their commute time and reduce their carbon footprint. If you're considering ebike commuting, there are a few essential tips to keep in mind before you start your journey. Whether you have a Velowave or another brand of eBike, these tips will help make your commute smoother, safer, and more enjoyable.
1. Invest in a good quality ebike
When you're commuting on an ebike, investing in a good quality electric bike is essential. It will not only make your ride smoother but also ensure that you stay safe while riding. The Velowave Grace Step Thru ebike is a great option for commuters looking for a reliable, comfortable, and safe ride. With its powerful motor, great range, aesthetically pleasing design, and practical accessories, it's easy to see why this bike is becoming a popular choice for commuters.
2. Keep an eye on the weather forecast
It's also important to keep an eye on the weather forecast before you go out for a ride. This is especially important if you're commuting on an ebike since the terrain can be unpredictable. Check the forecast for rain, wind, and other potential issues affecting your ride. Make sure to dress appropriately for the weather and always carry a raincoat in case it starts raining unexpectedly.
3. Make pre-ride checks
Before setting off on your ebike, make sure to do a pre-ride check. This will give you peace of mind that everything is running smoothly, and any problems can be addressed before they become bigger issues. Check the brakes, tire pressure, chain, gears, and battery level. If anything doesn't feel right or doesn't work properly, fix it before continuing on your journey.
4. Wear a helmet and the right clothing
Wearing a helmet is a must when you're riding an ebike. It not only keeps you safe but also increases your visibility in traffic. Make sure the helmet fits well and is approved by your local authorities. If you're traveling in cold conditions, make sure that you wear appropriate layers and a waterproof jacket to keep you warm and dry. If you're traveling in hot weather, lightweight and breathable clothing will help to keep you cool and comfortable.
5. Get to know the bike laws in your area
You must abide by bike laws when commuting on an ebike. This will ensure you stay safe and legal while riding. Regulations are almost similar everywhere but few may vary a bit. Make sure you check the local laws before setting off, so you don't get caught out by any unexpected regulations.
6. Prepare your route
Planning your route is also essential when commuting on an ebike. Do research to find out which routes are best for cycling and if there are any dedicated bike lanes in your area. Knowing the route beforehand will make your journey smoother and more efficient. If possible, avoid busy roads and use quieter streets and pathways. This will reduce the risk of accidents and make your ride more enjoyable.
7. Arrive refreshed and alert
When you're commuting on an ebike, it's important to be alert and refreshed for the journey ahead. Make sure that the ebike is comfortable for the ride. The saddle height, handlebar positioning, and gears should be adjusted to your preferences. This will make your ride more enjoyable, as well as ensure that you have enough energy to get to your destination.
8. Choose the right gear
It's important to remember that ebikes can travel faster than regular bicycles. When choosing the right gear, consider the speed at which you'll be traveling, and ensure that you have the appropriate safety equipment and apparel for the journey. You'll arrive at your destination feeling refreshed and alert with the right gear.
9. Use mudguards or safety fenders
Mudguards or safety fenders are essential for ebike commuting, especially when the weather is wet. They will protect you from water splashes and keep your clothes dry. They also prevent the buildup of mud and debris that can clog your bike's tires. Look for mudguards or safety fenders that are specifically designed for ebikes, as they provide a better fit and better protection than regular ones.
10. Use integrated lights and install reflectors
Integrated lights are also essential when riding an ebike in the dark. Most modern ebikes come with integrated lights, but if yours doesn't have them, you can easily install them yourself. The lights should be visible from a distance and make sure to always turn them off when you're not using them. In addition to lights, it's also important to install reflectors on your bike. Reflectors help other people to see you more clearly on the road, even when there isn't much light.
11. Keep tools to tackle puncture
When commuting on an ebike, it is essential to be prepared for any situation that might arise. This includes carrying the necessary tools to tackle a puncture in the event of a flat tire. Carry a spare tube, patch kit, tire levers, and a mini pump so that you can quickly and easily repair a puncture.
12. Secure with a lock
It is also important to secure your ebike with a lock when you are leaving it outside. This will help ensure that it remains safe and secure while you are away from it. Invest in a good quality bike lock such as a chain or U-lock and be sure to secure the frame and both wheels. Take extra care when locking your bike up in public areas and do not leave it unattended for extended periods of time.
13. Dry the battery after riding wet grounds
If you've been riding your eBike on wet ground, it's essential to dry the battery after. To do this, turn off the power, remove the battery from the bike, and use a towel to dry off any water droplets or moisture. Be sure to wipe away any debris too. Once you've dried the battery, store it in a cool, dry place out of direct sunlight.
14. Perform post-ride ebike checks
To help prevent mechanical issues or breakdowns, performing post-ride eBike checks each time you finish a ride is important. Inspect the brakes, gears, and chain, and look for any loose bolts or screws. Check the tire pressure and make sure the battery is securely attached to the frame. If you notice any damage, take your bike to a qualified mechanic to have it repaired before continuing to use it.
Grace Step Thru ebike features a lightweight aluminum frame, making it easier to transport, store and maneuver. Its 750W powerful motor provides reliable power for hills and long rides. The 48V 20Ah Lithium-ion battery offers an impressive range of 40-60 miles, so you won't have to worry about running out of juice halfway through your commute. You can even purchase an extra battery for longer rides. The Shimano drivetrain provides smooth shifting and responsive braking, giving you the confidence to tackle any terrain.
It also comes with a range of accessories to make your commuting experience even more comfortable and convenient. The fenders keep you clean and dry, while integrated lights help you stay safe in low-light conditions. A rear rack lets you carry your belongings with ease. Its stylish frame and attractive color options are sure to turn heads as you cruise around town.
1 comment