🚴‍♂️ Velowave Bike of the Week: The Rover! 🚴‍♀️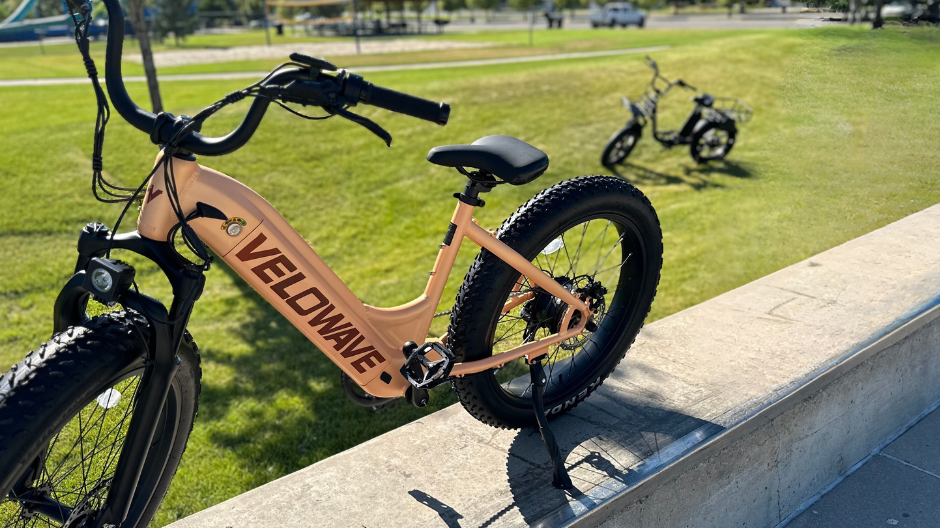 Are you ready to embark on a cycling journey like no other? Get ready to experience the perfect fusion of style and power with the extraordinary Velowave Rover. This remarkable electric bike is not just a means of transportation; it's a statement of luxury and performance. Let's dive into the exceptional features and exciting extras that make the Rover an absolute game-changer. 
Unmatched Power and Range
The heart and soul of the Rover lies in its robust 750W BAFANG gear hub motor, which propels you forward with astonishing force. Say goodbye to strenuous uphill battles and long commutes - this motor makes your ride effortlessly smooth, ensuring that every journey is a joyous one. Plus, with a jaw-dropping range of over 50 miles per charge, you can explore your world without worrying about running out of juice. 
Conquer Any Terrain
The Rover's Kenda 26"*4.0" Fat Tires are designed to conquer any terrain with finesse. Whether you're navigating through snow, sand, or challenging terrains, these anti-skidding and wear-resistant tires provide unparalleled stability and control. The fat tire design ensures a smoother ride even on rugged landscapes, offering you more opportunities to create unforgettable cycling memories. 
Comfort and Safety Redefined
Velowave has taken every detail into consideration to ensure your comfort and safety. The Rover comes equipped with a widened and enlarged comfort seat that enhances your riding experience. To elevate safety, rear reflectors are thoughtfully placed under the seat, making your journeys not only enjoyable but also secure. 
Innovative Battery Technology
A game-changing 48V 15AH LG battery lithium battery is at the core of the Rover's exceptional performance. The battery not only ensures a robust range of 50 miles without burden but also enhances safety through its power lock feature. Despite its impressive capacity, the integrated design keeps the battery compact and portable, allowing you to carry it with ease. 
Enhance Your Experience with Extra Accessories
Velowave understands that personalizing your cycling experience is key. That's why they offer optional accessories that take your Rover adventure to the next level:
1. Electric Bike Phone Mount
Stay connected and navigate with ease using the sturdy phone mount. Its shock-absorbing and anti-shake features ensure your device stays steady even on rough terrains. The thoughtful design ensures you can still operate your phone conveniently without blocking the screen.
2. Waterproof Trunk Bag
The waterproof trunk bag comes with a rain cover, keeping your essentials dry no matter the weather. With reflective strips for added visibility, adjustable partitions for organized storage, and extra pockets, it's the perfect companion for your Rover journeys.
3. Rear Rack & Fender
This comprehensive kit includes an aluminum rear rack and front & rear aluminum fenders. The rear rack offers a robust platform for transporting your gear, while the fenders keep you and your Rover clean and dry on various terrains. Installation is a breeze, and the kit seamlessly integrates with your Rover. 
🛤️ Your Rover Adventure Awaits! 🛤️
The Velowave Rover isn't just a bike; it's a lifestyle. Feel the rush of power, experience the thrill of effortless rides, and embrace the luxury of style. Elevate your cycling adventure with the Rover - the bike that's redefining what's possible. 
Are you ready to experience the Rover? Click here to purchase yours today and embark on a journey that's stylish, powerful, and unforgettable! 🚴‍♂️🚴‍♀️