Questions and Answers Hub Part 2: Velowave Ranger Fat Tire Electric Bike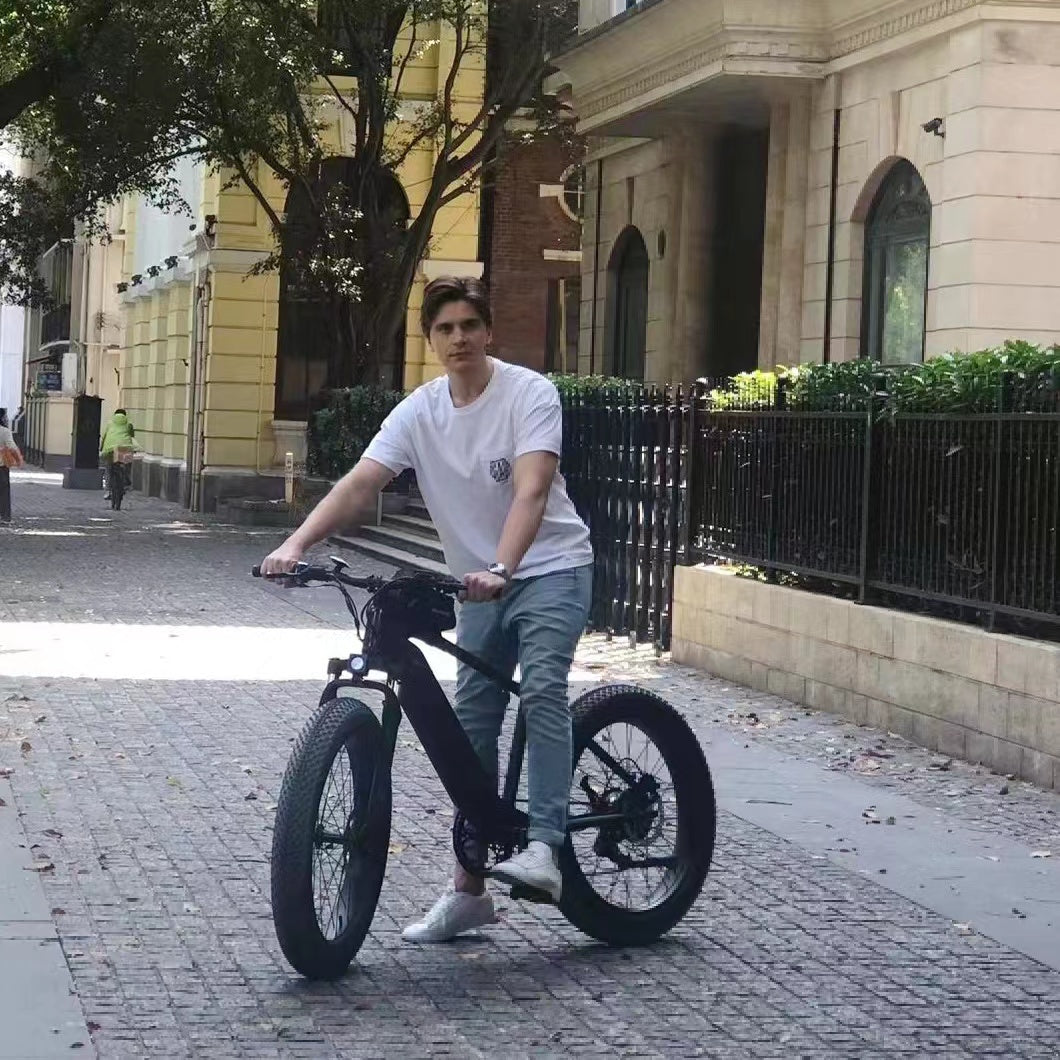 Question: Does the bike come assembled? If not, how difficult is the assembly?

Answer: Hi, the VELOWAVE fat tire ebike comes 85% pre-assembled. You will just need to install the front wheel, the handlebar and pedals. It takes about 20 to 30 minutes for a person that has a basic knowledge of bikes. You may folllow our instruction manual in the package or find the assmebly video on our product page. Any difficulty with set-up, please feel free to contact our customer support. Wish you enjoy the ride with your VELOWAVE.
Question: 

Is there locking front tire skewer available.

Answer: Hi, yes we can provide the front tire skewer. Could you please contact us through messages for further help?
Question: Is it possible to install a third-party rear suspension (shock absorber)?

Answer: Hi, I'm afraid not as rear suspension requires integration with the frame.
Question: Is there a cart that can be connected to this Ebike? I'm wanting it for hunting


Answer: Hi, currently we don't offer a cart. Please join Velowave FB group: https://www.facebook.com/groups/576055707010257 . Our customers there may give you a better suggestion.
Question: If you use full throttle do you still have to pedal? Or can you just rest and keep your feet on the pedals?

Answer: Hi, when using the throttle, you don't need to pedal at the same time. You can just rest and keep your feet on the pedals.
Question: I wanna buy a Handlebar Riser Adaptor to rise my handle bars,can you tell me which mm stem size the bike has? 123mm/138mm or 185mm

Answer: The stem size where it holds the handle bar is 31.8mm.
Question: Does it come with a torque arm installed, or should I install one separately?

Answer: It's PAS sensor system, not torque sensor. You don't need to install a torque arm.
Question: 

I'm 5ft 6in, will I be able to put both feet on the ground?

Answer: Hi, yes you are able to put both feet on the ground with the height 5ft 6in.
Question: What classification is the bike class ll or lll

Answer: Hi, it's class 3.
Question: Is the bike setup to remove the throttle and allow pedal assist only? Many states only allow Class 1 or Class 3 e-bikes on public trails.

Answer: Very good question, you can disengage Pedal assist entirely and not even use it with the level zero.
Question: Are spare batteries available yet?
Answer:Hi, we are really sorry as the spare batteries were supposed to arrive much earlier, but they were terribly delayed due to virus infection of the ship. The latest updates shows they will arrive in about ten days. Could you please leave a message to our customer support through email so that we can find your information there and remember to inform you in time when the battery arrives. Thank you for your patience and understanding.
Question: I'm wondering if the extra fat tires will be a problem on smooth pavement where I'll be doing most of my riding, is it smooth and quiet?
Answer: You will want something that has traction for good stops, and bite to fill in the gaps on streets and sidewalks… quiet enough… you want skinny tires, you will get less support and tracktion
Question: is this compatible with a tapered fork?
Answer: Hi, it's not compatible with tapered fork.
Question: Are the tires noisy when riding
Question: I just got the bike assembled & am charging the battery but i can't figure out how to test the head light. Is there a switch i am not 

seeing?
Answer: Press and hold the plus button down for one second to switch on your headlight and then again to turn it off
Question: Who is the manufacturer of the hydronic breaks?
Answer:The brand is Logan.
Question: Anyone purchase an extra battery for long trips? Expensive I see but is it easy to switch and worth the investment?
Answer: The battery is very easy to remove and replace. You'll need to carry your key with you. But I have thought about buying a second battery, but they are quite pricey. I recently did a 30 mile ride using mostly level 1 and 2. And only used 25% of the battery. So depending on how much "assist" you use. I'm thinking I can easily get 70 miles out of the battery with the level of assist I have been using
Question: Is the throttle on thr right side of the handle bars?
Answer: Hi, it is on the left side of the handlebar.
Question: What is the actual frame size of the bike?is there a weight limit, I didn't see one
Answer: Hi, the rim size is 26", but it reaches about 29" with the fat tire mounted. Total length of the bike is 1940mm, standover height 768mm. For more details, please check the frame size chart on our product page or contact our service support for details. Recommended weight limit is 300 lbs. Thank you.
6 comments